Taking a Screenshot - eSignal Snapshot and Print Screen Function

Often people need to share an image with another person. This could be for a variety of reasons, however the advantages in doing so adhere to the publisher's idiom that a picture is worth a thousand words. eSignal has a screenshot program built in called eSignal Snapshot.
eSignal Snapshot

eSignal will display an icon for the snapshot tool in the taskbar
.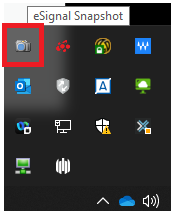 1. To take an Snapshot, click the icon
located in the taskbar.
2. A window called
Capture Window
will open with the Finder Tool.
3. Click and hold the mouse in the Finder Tool. Drag it on top of the window you will like to take an
snapshot of.
A window called Image Publisher will open.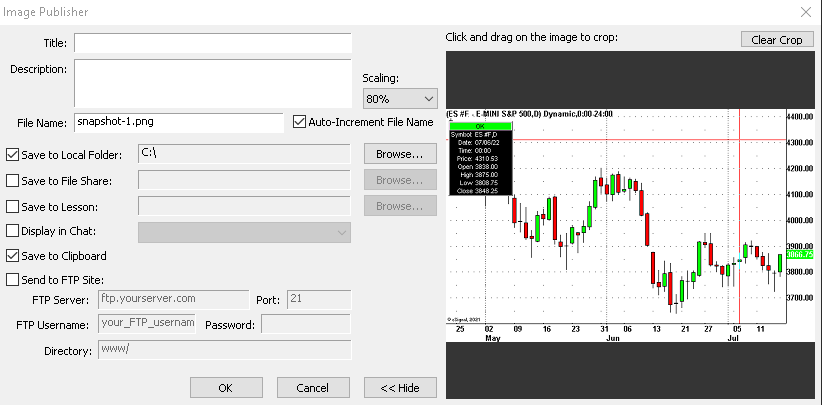 In the Image Publisher window, you can add an optional Title or Description to the image and save the file in a particular folder, save it to fileshare, save it to a lesson or save it in the clipboard. The snapshot will be saved as a .png file.
Title
- The Title is the name assigned to the image.
Description
- Any additional information related to the image (Used when uploading files to Fileshare)
Scaling
- Allows you to resize the image (It might affect the image quality)
File Name
- It is the filename assigned to the image file (.png)
Auto Increment File Name
- HAving this box checked will automatically save files For example if the first file is called 'snap1.png', the second file will be 'snap2.png'.
eSignal Snapshot also available in the eSignal Central Toolbar
. By clicking the icon in the eSignal Central Toolbar, it will take an snapshot of the active window in the page or Layout.
Print Screen

If you don't have access to eSignal and you will like to take an screenshot of a particular window, you can do it using the Print Screen key. The Print Screen function will temporarily store an image in the Clipboard, then you can use Microsoft Paint in Windows to open, edit and save an image file.
Hit the Print Screen key in your Keyboard (PrtScn), then open Microsoft Paint, Edit and Save.
1. Hit PrtScn in your keyboard
2. Open Microsoft paint, Start > All Programs > Accessories > Paint
3. Click Edit in the menu bar, then click Paste
4. Edit and Save the file in the destination folder of your choice.