eSignal Apps - Trade Ideas
TM
Trade Ideas is a platform designed from the ground up with the latest advancements in scanning, database, and, artificial intelligence technology to identify and test investment opportunities on all different time frames. Users may create their own custom scans by utilizing combinations of Trade Ideas' indicators (consisting of alerts and filters) or tune into themed market channels, maintained by Trade Ideas.
Subscription Info
To add this service to your account, click eSignal Apps icon from the main menu. Select eSignal app store from the dropdown menu.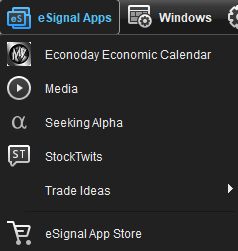 Locate Trade Ideas and click
Add Now
(subscription fees apply). Please note that a free 30 day trial is enabled for all new subscribers.
FAQ
What is Trade Ideas?
Trade IdeasTM is a publisher of real-time, custom-filtered market data. Trade Ideas watches every tick of every stocks and maintains statistical baselines of normal price and volume behavior for all stocks, on all time-frames. When something out of the ordinary happens, Trade Ideas knows. This allows you to find profitable trading opportunities in all markets.

How do I get help with Trade Ideas in eSignal?
The version of Trade Ideas inside eSignal is similar to Trade Ideas Pro version 3. A User's Guide for Trade Ideas Pro version 3 is available for download here. Help videos and webinar recordings are available on our YouTube channel (youtube.com/tradeideas). Keep an eye out for invitations to exclusive Trade Ideas instructional webinars for our eSignal clients.
Please email Trade Ideas at info@trade-ideas.com or call us at +1 (619) 821-8198 with any questions.
Why use Trade Ideas?
You can use Trade IdeasTM to get customized investing and trading data in real time so you can analyze a trade before you place it. Using filtered ideas that match your trading patterns and preferences, Trade IdeasTM can help you act on opportunities in the market swiftly and give you an edge over the competition.
This pre-trade analysis tool, which is available with a paid subscription, monitors every trade on NASDAQ, NYSE, AMEX, OTC BB and Pink Sheets markets. Once it locates stocks that meet the criteria, you can begin the analysis process to determine if a hypothetical investment is a wise choice. The tool can help you do the following:
Determine bearish, bullish, or neutral-based trading strategies

Develop trading scenarios

Discover your potential for earning a profit
Things you can do with Trade Ideas™
Trade Ideas is an idea-generation software program, designed to alert you to new trade opportunities that fit your strategy in real time. Through streaming statistical and technical stock-market analytics, Trade Ideas provides a way for you to:

1. Increase your research speeds with Trade Ideas channels
The size of the market presents a challenge to traders: How can you monitor intraday activity in such a big environment? Trade Ideas offers technology to help you get a bird's eye view of the market and then zero in on trade opportunities that fit into your trading plan. Once you set your strategies, Trade Ideas will continually apply them to the overall market and notify you when your specific criteria are met.

2. Search the market using a variety of neutral, bullish or bearish pre-configured strategies.
Quickly apply any of the pre-configured strategies, offered in Trade Ideas, receive alerts for your selected criteria throughout the day.

3. Create your own strategy from scratch.
Design a custom strategy that matches your trading goals, and use it to search the market for opportunities tailored to your trading plan. Use alerts and filters to create limitless combinations that match your trading needs.

4. Optimize and refine any trading strategy.
Use the Optimization tool inside Trade Ideas to analyze the details of a strategy and see whether a component is working or needs further refinement. You can use the information, provided in this section, to apply additional filters and modify your strategy based on your goals.

5. React in real time, with live alerts delivered as events happen.
Trade Ideas notifies you of market developments as they occur inside the streaming Alerts window.

6. See a list of the top 100 symbols that meet your criteria.
Trade Ideas Top Lists are updated every 30 seconds to continually deliver the top 100 symbols, based on your custom configuration. You can configure your list according to a variety of filters such as price, volume, volatility, buy/sell pressures, ranges, options volume, gaps, candle behavior, movement, Bollinger Bands®, moving averages and fundamentals.
The visualization component tools with Trade Ideas and their function:
Channel Bar -

a menu for tune into or selecting layouts featuring Trade Ideas tools all of which are designed around various market themes

Alert -

a tool for designing and monitoring a specific strategy/pattern. Chronologically sorted, event based notification

Top List -

a sorted leaderboard of stocks updated every 30 seconds that meets all filtered criteria. Secondary client-side sorting and custom gradient coloring ads multiple dimension of data display

Compare Count -

compares the activity of any two strategies. Commonly used to portray New Highs and New Lows to offer a view of which market trend is dominant during the day

Multi-Strategy -

one window containing any number of Alert Windows to consolidate space
Is it possible to integrate the standalone Trade Ideas Scanner with eSignal? Yes. For more information please follow the instructions here: https://www.youtube.com/watch?v=W6lb5k9udFk