As mentioned on the
LME website
, the futures contracts on this exchange include Daily, Weekly, and Monthly prompt dates. Using the symbol search window in eSignal you can list all of the active contracts on the LME. With a few exceptions (cash symbols, etc.), updates occur on a daily basis with no intraday activity.

Symbol Format Examples
Daily, Weekly, and Monthly contracts use the format below. Unlike traditional futures format, the Year Code appears before the Month Code and a qualifier for the day of month is included. Also, there is no traditional front month contract equivalent.
CAD 3X04-LME
Root Symbol = CAD (Copper)
Year Code = 3 (2013)
Month Code = X (November)
Day of Month = 04 (4th day of the Month)
Symbol Extension = -LME (London Metals Exchange)
Jan

F

Jul

N

Feb

G

Aug

Q

Mar

H

Sep

U

Apr

J

Oct

V

May

K

Nov

X

Jun

M

Dec

Z

Cash/Spot

A0
Special Codes
#RS = Warehouse Symbol Qualifier
Sample: CAD #RS-LME
C0 = Cash Symbol
Sample: CAD C0-LME
C3 = 3 Month Cash Spread
Sample: CAD C3-LME
Forward Contracts (M3, M15, M27, M35, M63, M123)
Sample: CAD M3-LME
M3 = 3 Month Forward
T1 = Tomorrow
Sample: CAD T1-LME
Daily Prompt Dates
The screenshot below shows a sample of the daily contracts for Copper. The Daily contracts are available out to 3 months. As the daily contracts expire, activity ceases and new contracts are created at the tail end of the 3 month rolling period.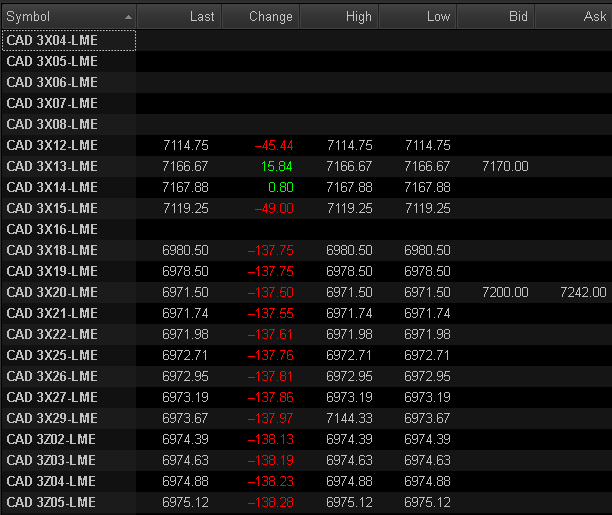 Weekly Prompt Dates
Weekly contracts are available from between 3 to 6 months out with each week, beginning on a Wednesday. Here's a sample of the Weekly contracts with each week starting on a Wednesday.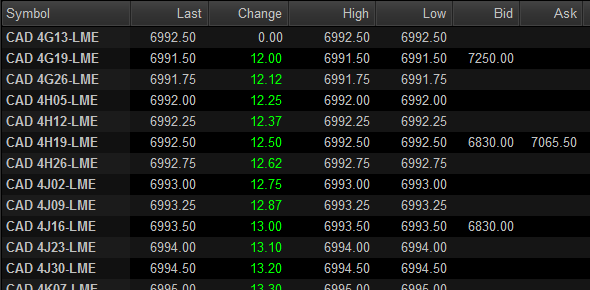 Monthly Prompt Dates
Depending on the root symbol, monthly contracts can go out from between 6 to 123 months out (10+ years). They typically start on the 3rd Wednesday of the month.
Click here
for contract specific info for monthly prompts.

E-Mini Contract (-LME)


Metal Contracts (-LME)


*Steel Contracts (-LME)


Metal Contracts Warehouse Stocks (#RS-LME)
| | | |
| --- | --- | --- |
| Description | Full Symbol | Hours |
| Warehouse Stock - Aluminum Alloy | AAD #RS-LME | Single Daily Update at 08:00 GMT |
| Warehouse Stock - Aluminum | AHD #RS-LME | Single Daily Update at 08:00 GMT |
| Warehouse Stock - Copper | CAD #RS-LME | Single Daily Update at 08:00 GMT |
| Warehouse Stock - Lead | PBD #RS-LME | Single Daily Update at 08:00 GMT |
| Warehouse Stock - Nickel | NID #RS-LME | Single Daily Update at 08:00 GMT |
| Warehouse Stock - Tin | SND #RS-LME | Single Daily Update at 08:00 GMT |
| Warehouse Stock - Zinc | ZSD #RS-LME | Single Daily Update at 08:00 GMT |