Advanced GET Studies - GET Bias Reversal

Overview
The GET Bias Reversal is a proprietary study developed by Tom Joseph. It indicates a potential change in trend (a reversal of a bias) point. When the GET Bias Reversal is indicated at the top of the screen, it indicates some degree of a change in trend and the market should move down. The opposite is true when the GET Bias Reversal is indicated at the bottom of the chart. If the GET Bias Reversal gives you a false signal, a line will eventually be drawn at the base of the signal. Please note that you must
purchase Advanced GET
to access this study.
How do I apply the GET Bias Reversal study?
To apply this study to a chart, left-click on the GET icon and select GET Bias Reversal from the drop-down menu: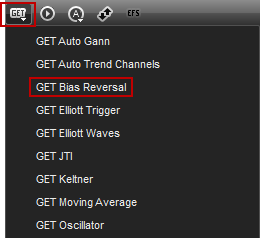 Alternatively, you can also right-click on the chart, when the menu appears, left-click on Insert Study, left-click on the Advanced GET tab and then select GET Bias Reversal.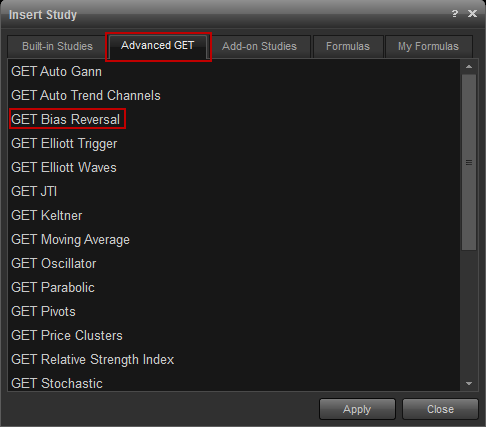 The GET Bias Reversal study will then appear on the price pane of the chart as colored triangles.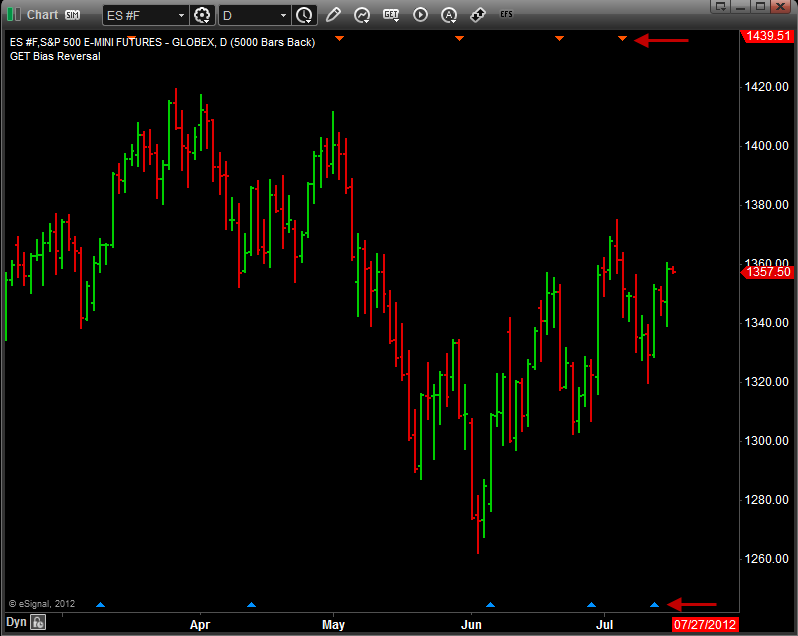 Properties
To edit the GET Bias Reversal study parameters, either right-click on the chart and select Edit Chart or right-click on any of the lines in the study and select Edit.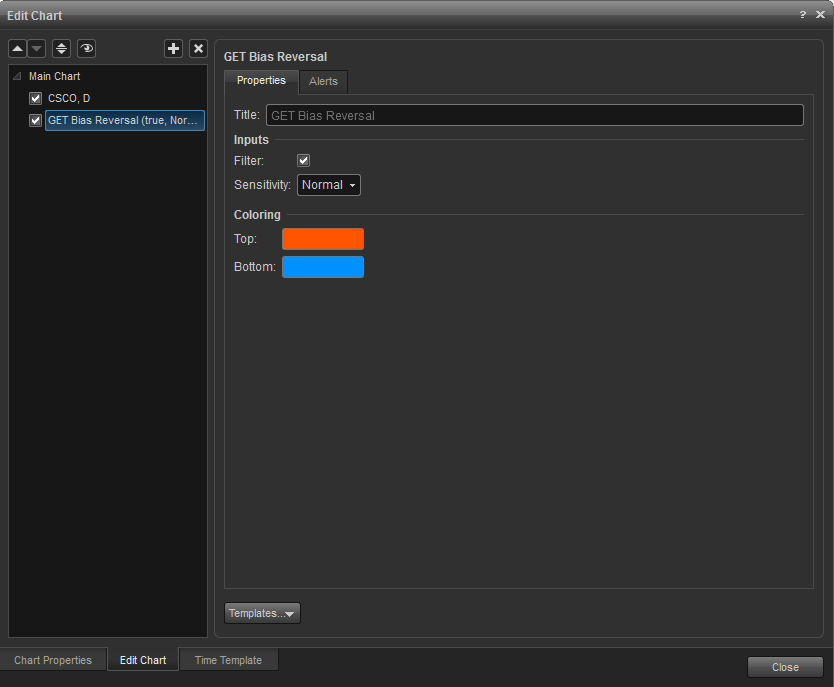 Filter: When checked, it removes any GET Bias Reversal signals that have been marked false signals. When this is not checked, false GET Bias Reversal signals will be indicated with a line being drawn at their base. GET Bias Reversal signals are designated as "True" or "False" when the next price bar after the signal has been verified.
Top and Bottom Coloring: Allows you to select what colors the Bias Reversal will be drawn with.
Sensitivity: Allows you to choose between a Normal or Tight sensitivity level for the GET Bias Reversal calculation.
•T
he
Normal
setting is what should be used in most circumstances. The Normal setting will give you more signals, some of which will be "false" or
smaller changes.
•The Tight setting is less sensitive to the market, and will give you less GET Bias Reversal points. When using the Tight setting you will have less false
signals, but you will have less good signals as well.
Alerts
Select the Alerts tab to set an alert for when a new Top or Bottom Bias appears.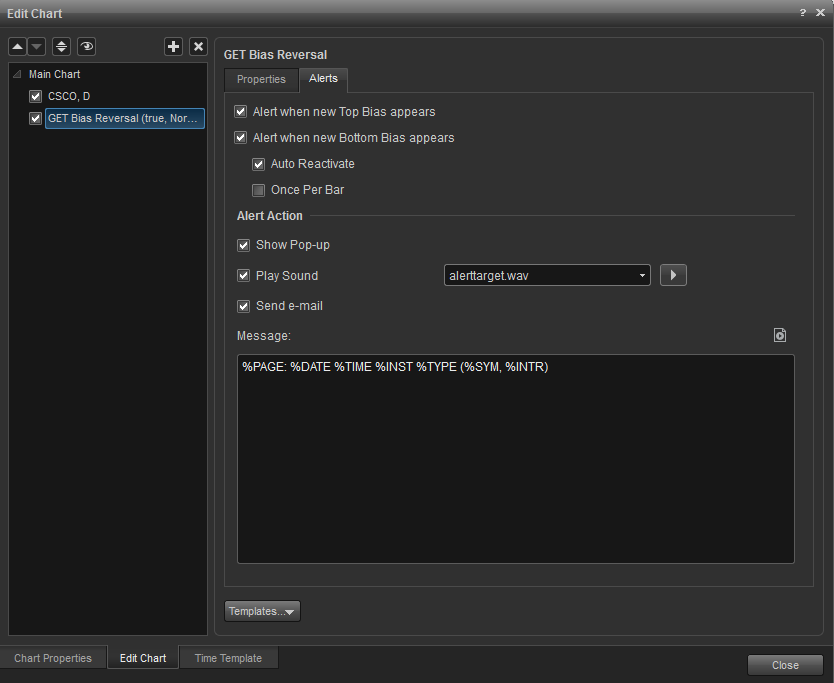 Auto Reactivate: When checked, the alert will reactivate so it can be triggered again.

Once per Bar: When checked, the alert will not trigger again until the price bar forms.

Alert Action: When an alert is triggered you can choose the method for how you wish to be alerted. Settings include a pop up alert, an audio alert (custom wav file can be set), and if configured, an e-mail alert message.