The Quote Ticker bar displays quote information (last, up or down tick, net change, percentage change) in a horizontal scrolling format.
To add a Quote Ticker to your page, left-click
Options
on the menu bar, select
Toolbars
and click
Quote Ticker
. the
√
indicates that the Quote Ticker is on the page already.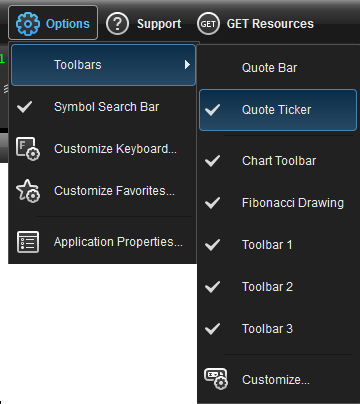 List of Symbols

You can add or delete symbols from the quote ticker by right-clicking the mouse anywhere inside the Quote Ticker and selecting
List of Symbols...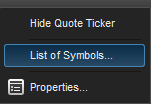 A window called Ticker Symbols will open. This window allows you to add and remove symbols from the Quote Ticker. you can also change the order in which the symbols will be displayed.

Adding a Symbol
To add a symbol, enter the symbol, then click the icon with the "+" sign.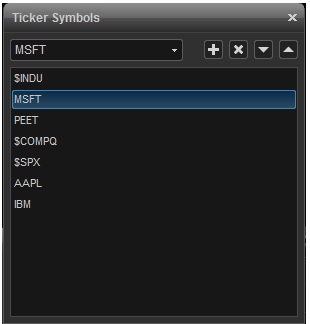 Removing a Symbol
There are two ways to remove symbols from the quote tickers. One way is to open the Ticker Symbols window, highlight the symbol from the list and click the "x" icon.

Alternately, you can right-click on a symbol in the Quote Ticker bar and select Remove [Symbol]: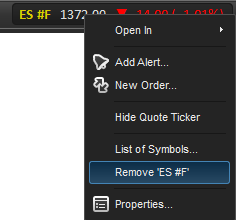 Symbol Display Order
To change the symbol display order, open the Ticker Symbols window, select the symbol, then use the up arrow and down icons.

Right-Click Menu
Right click the Quote Ticker to see the menu below: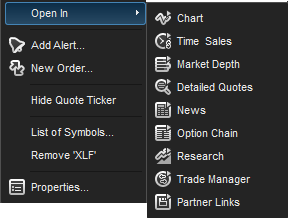 You can select Open in to open the symbol in a Chart, Time and Sales, or any other window listed in that menu. You can also add Alerts, hide the Quote Ticker, and access the Properties menu here.

Detailed Quotes
If you left-click the mouse over one of the symbols scrolling in the Quote Ticker, a Detailed Quote window will open for that symbol.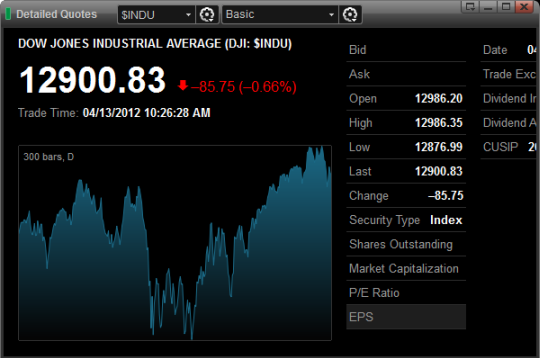 Properties
Allows users to customize font size and font style, colors, and also adjust the scrolling speed. To access the Properties dialog box, right-click the mouse on the Quote Ticker bar and select Properties. You can also access the Properties menu by clicking the blue eS icon from the main menu and selecting Application Properties, Quote Ticker.