Harmonic Pattern Collection
A comprehensive and highly configurable collection of harmonic pattern indicators suitable for use on all timeframes by Divergence Software, Inc. A total of nine patterns are covered (ABCD, Bat, Butterfly, Crab, Cypher, Gartley, Shark, 3-Drive, and 5-0).
Click here
for more information and to add the Harmonic Pattern Collection to your eSignal account.
for the Help File which describes the indicators and provides support inforrmation.
Applying the Harmonic Pattern Collection
To apply a study in the Collection, right-click anywhere in the chart and select Insert Study: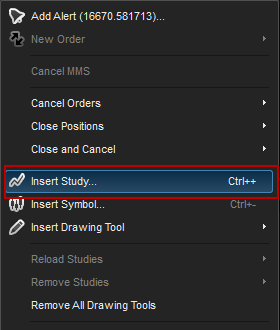 The Insert Study dialog box will then be displayed. Left-click on the Add-on Studies tab and left-click then click on the dropdown menu icon next to Harmonic Pattern Collection. Select the desired study from the menu: