Account Maintenance - Q&A and Troubleshooting Tips
Account Maintenance is our online account access system. It's designed for users to manage and maintain their own accounts. Whether you're looking to add or cancel a service or just update your personal information (like credit card number, email address, etc), subscribers can use
Account Maintenance
to self-serve 24 hours a day, 7 days a week.
In most cases, simply use the username and password you've chosen for your product (eSignal, QuoTrek, QCharts, etc) to access Account Maintenance. Alternatively, you can enter your Customer ID # and your Account Maintenance psw (both sent in your initial registration email if you signed-up online) to access the site.
Q. Why am I unable to log into Account Maintenance using my username and password?

A. There are two likely scenarios:

1) You are entering the wrong username or password. Double check that you are entering the correct username and password. If you still can't access the system, you can try requesting your Customer ID # and Account Maintenance Web password by requesting it here. If you are still unable to access the site, please email or call us and we'll help determine what the problem is.

2) Your account is not supported via Account Maintenance. In this case, you'll see the following message: Web Maintenance not allowed If you see this message, you'll need to contact Customer Service directly for all account-related changes.


Q. When I click on a link in Account Maintenance, it brings me back to the main login page. Why?
a. your internet security settings, in regards to cookies, may be set too high. to test, within microsoft® windows® internet explorer*(ie), go to tools, choose internet options then click the privacy tab. try lowering the settings to accept all cookies and click ok. you may have to exit and restart ie for the change to take effect. if you are then able to access account maintenance successfully, you can always return the security setting to it's original state and keep this setting in mind the next time you need account maintenance.

q. what if i forget my password?

there are two ways to log-in to account maintenance. you'll either need the username and password you use in esignal or you can use your customer id (a 5-7 digit # given at time of sign-up) and a special web password (different from your esignal password). if you do not know your esignal password ( it's **** out in the data manager ) but you do have your customer id, you can request to have your special web password emailed to you. use this forgot my password link and then use the alternate log-in page to access account maintenance.

q. i'm getting an error message about "unable to verify the identity of secure.esignal.com as a trusted site" when i try to access account maintenance. how do i get past that message and should i be concerned about security? (see below for screenshot of error message)

this message is due to mozilla/firefox not having the verisign's key installed. customers using internet explorer do not receive this message because ie comes with the verisign key installed. if you see this message, simply select the option "accept this certificate permanently" and hit ok. this will prevent you from receiving the message each time you come to our site. please note: once you hit ok, you will receive a second message asking if you would like to continue to seeing encryption warnings. you can answer this question based on your own preferences. account maintenance is a secure site so you can use this site quite safely.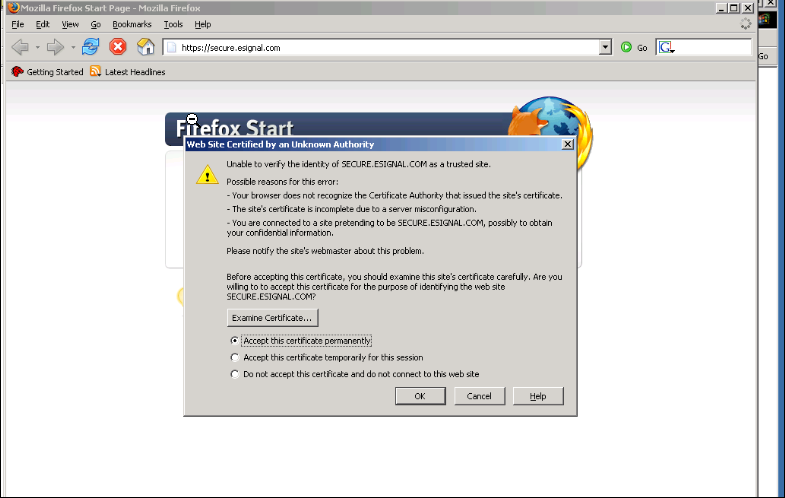 *microsoft and windows are either registered trademarks or trademarks of microsoft corporation in the united states and/or other countries