QCharts - Install/Uninstall Guide

Install QCharts
To install the latest version of QCharts, please visit the Download page.
https://www.esignal.com/support/qcharts
Click Download The Latest Version. Once the Installation file is done downloading Double click on the file to begin. Click next or continue and select all the defaults along with entering your Username and Password. Before launching QCharts, please do the following:
Renaming WININET.DLL
1. Right click on the QCharts desktop icon and click Open File Location
2. Locate the WININET.DLL file. Right click the file and rename the WININET.DLL to WININET_OLD.DLL.
3. Press ENTER on your keyboard to save the changes and close the file explorer window.
Setting QCharts to run in Windows XP SP3 Compatibility Mode
1. From the Desktop, right-click the QCharts icon and select Open File Location. This will open the QCharts directory on the PC.
2. Locate and then right click over the QCharts.exe file.
3. In the Properties window, Click the Compatibility tab.
4. Place a check mark next to "Run this program in compatibility mode for:" and in box underneath change the selection to Windows XP Service Pack 3. (You can find more detailed instructions here)
5. Place a check mark next to Run this Program as an Administrator.
6. Click OK.
7. In the QCharts directory, locate the file called Winros.exe and right-click on it and select Properties.
8. Repeat steps 4, 5 and 6. 9. After the above steps are taken, QCharts and the eSignal Data Manager will be allowed to read and write the configuration files in the correct location.

Uninstall QCharts
1. Close QCharts and the Data Manager.
2. If you wish to back up and save your Workspaces before uninstalling Qcharts please to the following. (If you do not need to save your workspaces you may skip to Step 4) Right click on the QCharts icon, and go to Properties, select the Shortcut tab and then click the Open File Location button (this will take you to the QCharts directory in Windows Explorer).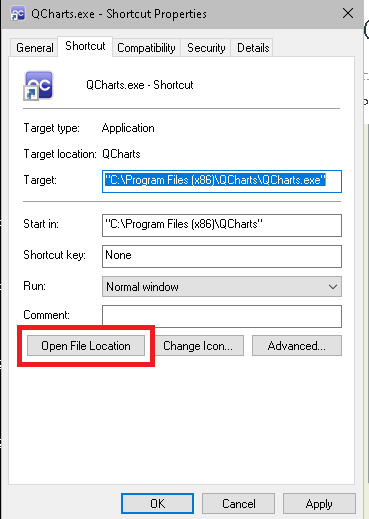 3. Copy and paste the workspace folder to your desktop if you wish to create a backup of your workspaces. You'll want to do the same for the User folder if you wish to backup your Alert Files.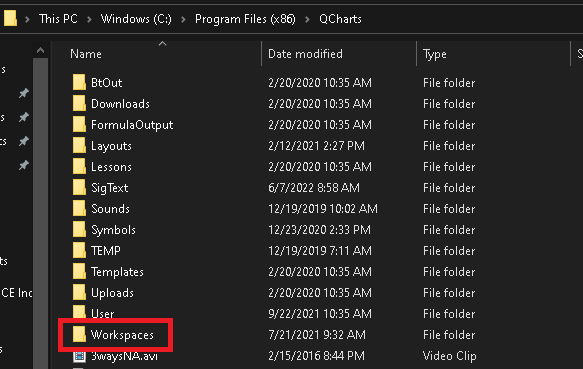 4. Open the Windows Control Panel, In the Control Panel click on Uninstall a program. Highlight QCharts in the list of programs and select Uninstall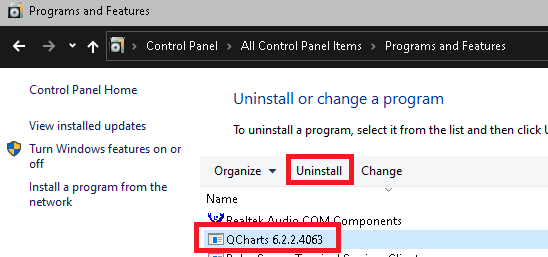 5. Finally, you'll want to delete the QCharts directory which is located in C:\Program Files (x86)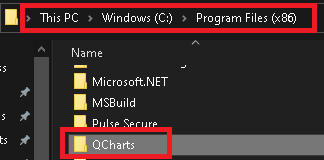 Once these steps have been completed, QCharts will be uninstalled.