Intercontinental Exchange takes privacy and security seriously. We wanted to communicate our plans related to Transport Layer Security (TLS), an encryption protocol used to help secure internet communication. Our systems are being updated to no longer accept traffic using TLS 1.0 and 1.1. Please ensure that your Operating System supports TLS 1.2 and is utilizing .NET Framework 4.6.2 and above. Windows 7 does not natively support this change and we recommend upgrading to Windows 10.
Please use the following URL to test your system for TLS 1.2 compatibility:
If successful, you'll receive confirmation that your system is capable of supporting TLS 1.2 or higher. Otherwise you will see an error message: "Secure Connection Failed'.
In addition you can check your Internet Options to confirm that TLS 1.2 is enabled:
Windows: Click the Start button, Control Panel, Internet Options. Scroll to the bottom of the Advanced Tab and make sure TLS 1.2 is checked: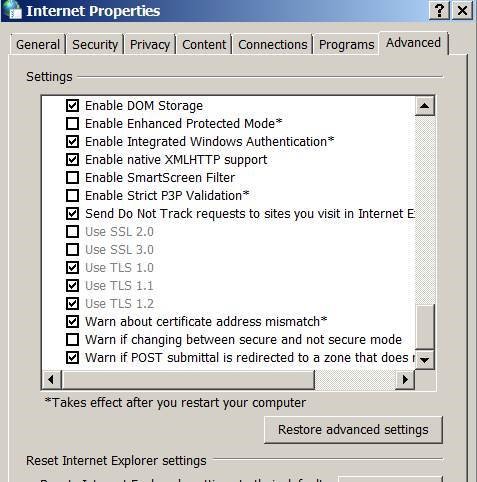 Google Chrome: Settings, Advanced, Accessibility, System, Open your computer's proxy settings.
eSignal Software Version
In addition, please be sure that the version of eSignal that you are running satisfies the following criteria:
eSignal 12 users must have eSignal version 12.4 or newer.
eSignal 10.6 users must have eSignal 10.6.4063 or newer.
Visit our Download Page to install the latest version of eSignal.
Please contact our Support team if you have any questions or concerns.