The Market Depth window displays the best bid and ask prices by market maker in descending order. It's used to help gauge supply and demand to potentially identify buying and selling opportunities. This window is commonly used to view Nasdaq Level 2 although other views such as Total View, CME Depth, and NYSE Open Book are gaining in popularity.
Visit
Account Maintenance
to add Market Depth to your account.

To open a market depth window select New from the main menu, followed by Market Depth. a keyboard shortcut (Control +4) is also available.




Alternatively, the market depth window can be launched by right clicking the watch list window and selecting Actions for [symbol] then left clicking Open in Market Depth.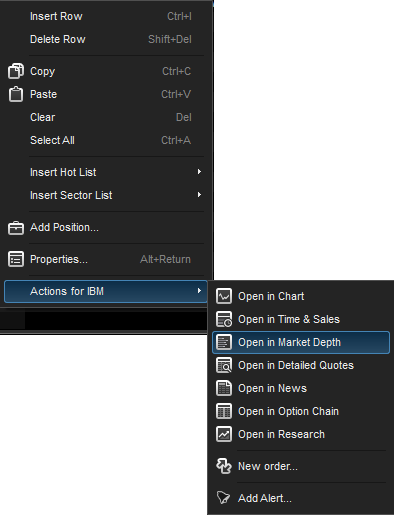 Symbol and View
On the title bar, enter the symbol and press Enter.



Depending on the symbol you select, the next field will display the views available for that symbol. For NASDAQ Symbols Level2, NASDAQ Total View, NYSE Arca and Single Book may be available. If you're viewing a CME Globex symbol such as the E-minis (ES #F), CME Depth will appear in this field.



The following market depth services are subscription based. You'll need to add the service to your account to gain access.
Please Note: You cannot run more than 12 market depth windows simultaneously. Here are the views currently available:

NASDAQ L2: Displays full order-by-order depth-of-book in NASDAQ, NYSE, AMEX and regional-listed securities.
NYSE Open Book: Provides a real-time view of the specialist's limit-order book. The NYSE Open Book provides aggregate order volume information for all bids and offers on all NYSE-traded issues between 7:30 am EST and 4:30 pm EST.
NYSE Arca: Displays the quotes from NYSE Arca.
Single Book: shows NASDAQ book depth on listed symbols.
CBT: Displays mini, electronic and Globex data.
CME: Displays mini, electronic and Globex data.
Total View: Displays multiple quotes from single market makers to buy or sell a stock plus anonymous postings.
LSE: Displays London Stock Exchange (LON) stocks.
Over-the-Counter: Displays Bulletin Board and Pink Sheet stocks.
Euronext: Displays Euronext (EEB) stocks.
TSX: Displays Toronto Stock Exchange's (TC) order book with committed, tradable volume at each bid and ask level.
TSX Book: Displays Toronto Stock Exchange's (TC) entire order book before a trade occurs, as well as broker information.
COMEX: Displays mini, electronic and Globex data.
NYMEX: Displays mini, electronic and Globex data.
Regional: View the best bid and ask from each US stock exchange.

Column Headings
Drag and drop (hold the left-click and drag to the new location) to resort the order of the headers.





Right-click the column header to display a list of available column headings. Check or uncheck the fields you wish to view. Selecting Arrange Columns will evenly adjust the width of each column.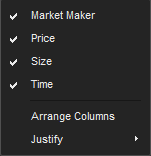 DOM Mode, Depth Meter, Ticker and Net Order Imbalance.
Select Market Depth from the main menu to access the DOM Mode, Depth Meter, Ticker and Net Order Imbalance windows.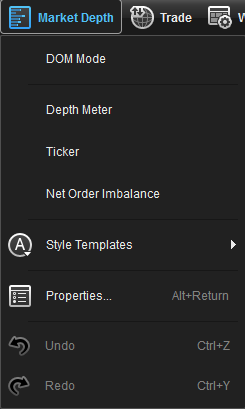 DOM Mode (Depth of Market)
This function will split the bid/ask data field vertically, displaying the ask data on top and bid data at the bottom of the split: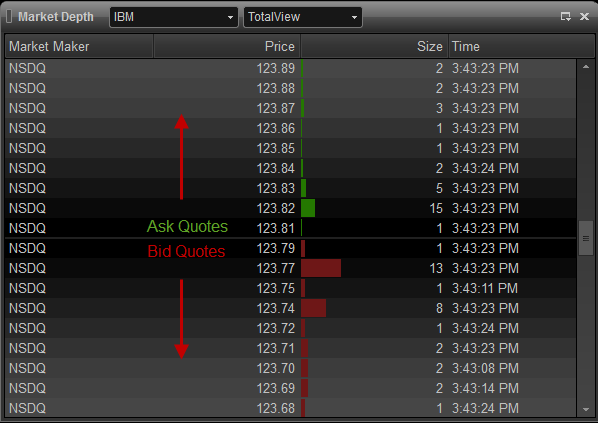 Depth Meter
This bar is a representation of the the bid/ask size being offered by the market makers at particular price levels:





To display the Depth Meter, select Market Depth on the menu bar and then left-click on Depth Meter, or right-click anywhere within the market depth window and select Depth Meter.
To change settings of the settings for the Depth Meter, select Properties from the Market Depth menu and then left-click on Levels to specify select the colors and increments of the price levels.

The Ticker will display the Time, MM (Market Maker), Type (bid/ask/trade), price and size: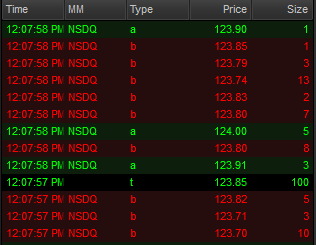 To change settings of the Time & Sales ticker, right-click the mouse in the Market Depth window and click on Ticker Properties. The Properties window will allow you to change the display, MM quote colors, and Trade colors.

Net Order Imbalance
For NASDAQ Total View subscribers, we provide Net Order Imbalance data in the Market Depth window. The Net Order Imbalance Indicator or NOII, gives a look into the supply and demand forces that affect the opening and closing prices (i.e. the NASDAQ q opening and closing cross data)

Net Order Imbalance data is updated 15 minutes prior to open and 15 minutes before the close.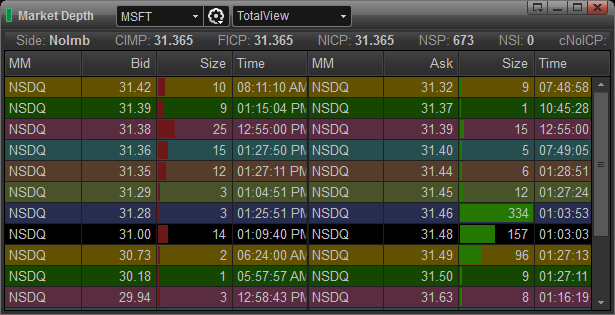 Adding Net Order Imbalance to a Market Depth Window
To add the Net Order Imbalance Indicator to your market depth window, click on the Market Depth menu at the top of eSignal and select Net Order Imbalance.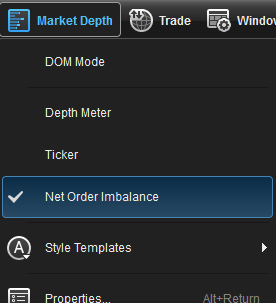 An alternate method for accessing this feature is by right-clicking in the main body of the Market Depth window, and selecting Net Order imbalance.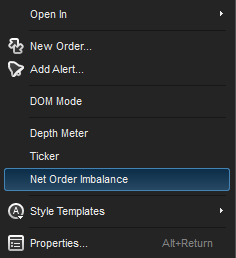 Net Order Imbalance Columns





Side: Side of Imbalance (bid vs. ask)
CIMP: Current Inside Match Price
FICP: Far Indicative Clearing Price
NICP: Near Indicative Clearing Price
NSP: Number of shares paired
NSI: Number of Shares Imbalanced
cNOICP: - No Indicative Clearing Price
PVI: Price Variance Indicator

For more information on using net order imbalance please refer to this article.

Properties
Default Row
Select the font, size, and font style of the rows. Edit the text and background color of the default row using this menu.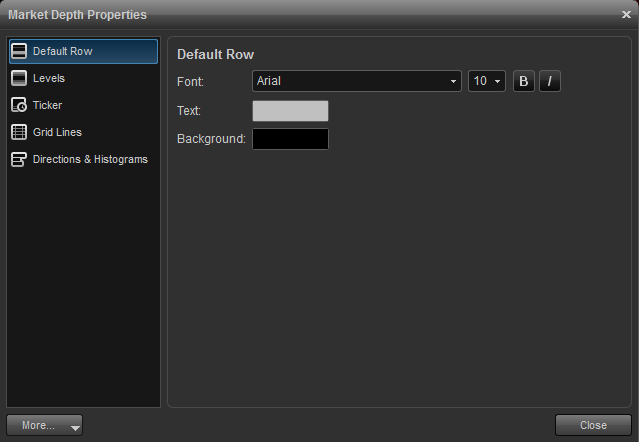 Levels
Level 1 represents either the best bid or best ask price. Use this menu to edit the colors corresponding to each price level. Separate color levels based on a specific price increment. For example, choose a different color to represent a difference of .01 for stocks.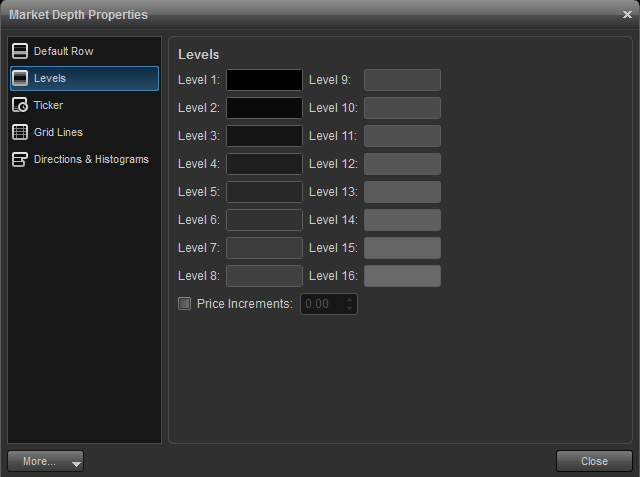 Ticker
Select the Fonts, Filter and the colors for Text and Background. Left-clicking in a Text or Background box will bring up color palette to change the color of the Text or Background of Trades and Quotes. The Filter box allows you to display Trades & Quotes, Trades Only, Quotes Only, Bids Only, or Asks Only.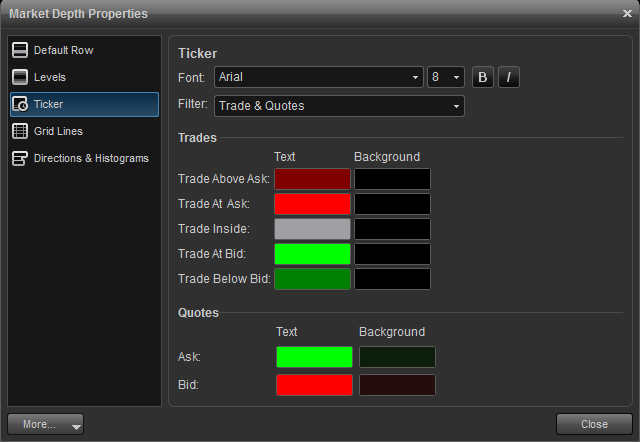 Grid Lines
Use this menu to turn grid lines on or off by checking/unchecking Horizontal and Vertical Grid Lines. Edit the Grid Line color using the color palette.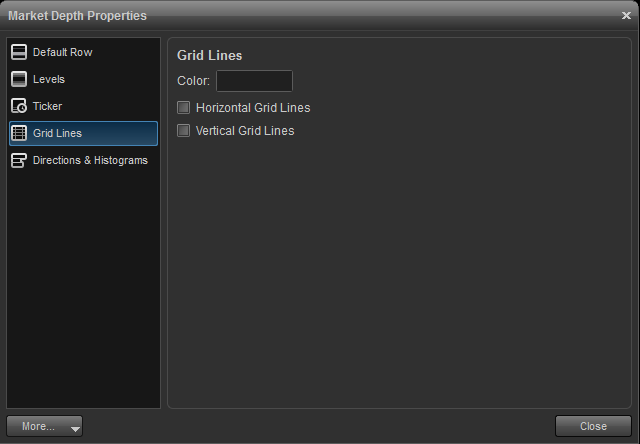 Directions & Histograms
Select to display Size, Bid Histogram, Ask Histogram and their respective colors.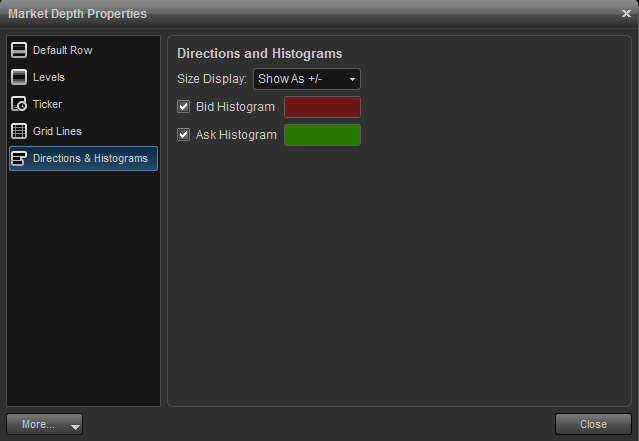 Size Display can be set to Show as +/-. If the size is up relative to the previous size a "+" will display. Conversely a "-" will display if the size is down relative the previous size. This setting is turned off (Don't Show) by default.
Bid Histogram and Ask Histogram can be checked or unchecked depending on whether you want the histogram (horizontal bar) to display. The default histogram colors can also be changed in this menu.