In order to make the eSignal Index list more useful for our customers, we've added a new column that references the source of each index. If the source is underlined (representing an active link), you can go directly to the Exchange that produces that Index to see its components and, in some cases, the calculation methodology. If the source is not underlined, we were unable to find an explanation for that Index. Please contact the respective Exchange if you need more information on that Index.
We calculate quite a few of the Indices ourselves and those are referenced to eSignal. In some cases, if eSignal is underlined, you can click to see an explanation of how we calculate that index. If there is no link, that information is not available yet.



Most Commonly Requested Indices and Statistics

Market Stats


Searching for Indices in eSignal

from the top main menu bar of esignal, click on file > new > symbol search or click on the following icon

. this will bring up the symbol search screen. choose
name/keyword
from the left side of the screen. unselect the
exchange
box and select
instrument
type. choose
indices
from the list and then click on search. for more on using the symbol search see
article #1642
and review the following illustration: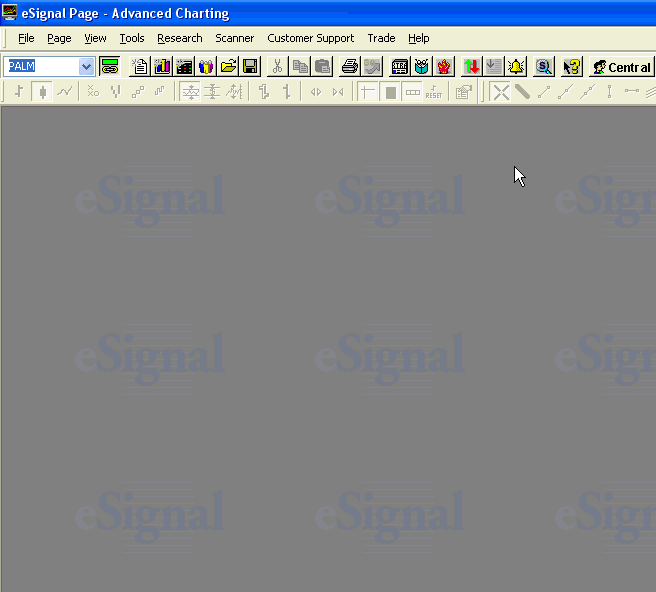 Global Indices
When searching for Global Indices (i.e. European, Asian, Latin American, etc), specify the Exchange and set the Instrument type to Indices. Alternatively, if you know the exchange extension you can type $*-xxx (substitute xxx for the exchange extension) in the symbol field when searching by symbol. Exchange and Instrument type should be unchecked.
Also, using $*-* will retrieve all Global indices, and $* will retrieve all indices Global and US. Please note Global (and some US) Indices are subscription based. For pricing
click here
.
Popular Indices and Statistics
Market Stats (USI)
| | | | | |
| --- | --- | --- | --- | --- |
| Symbol | Description | Source | Exch. Listed (XL) | Update Frequency |
| $ADD | NYSE $ADV MINUS $DECL | eSignal | USI | 6 Seconds |
| $ADV | NYSE ADVANCING ISSUES | eSignal | USI | 6 Seconds |
| $DECL | NYSE DECLINING ISSUES | eSignal | USI | 6 Seconds |
| $DVOL | NYSE DOWN VOLUME | eSignal | USI | 6 Seconds |
| $ISSU | NYSE ADVANCE/DECLINE | eSignal | USI | 30 Seconds |
| $TICKI | DOW JONES INDUSTRIAL TICK | eSignal | USI | 6 Seconds |
| $TICK | NYSE CUMULATIVE TICK | eSignal | USI | 1 Second |
| $TRIN | NYSE TRIN | eSignal | USI | 6 Seconds |
| $TVOL | NYSE TOTAL VOLUME | eSignal | USI | 6 Seconds |
| $UCHG | NYSE UNCHANGED ISSUES | eSignal | USI | 6 Seconds |
| $UVOL | NYSE UP VOLUME | eSignal | USI | 6 Seconds |
| $VOLD | NYSE $UVOL MINUS $DVOL | eSignal | USI | 6 Seconds |
| $XVOL | NYSE UNCHANGED VOLUME | eSignal | USI | 6 Seconds |
| $TICKQ | NASDAQ CUMULATIVE TICK | eSignal | USI | 30 Seconds |
| $TRINQ | NASDAQ TRIN | eSignal | USI | 30 Seconds |
| $TVOLQ | NASDAQ TOTAL VOLUME | eSignal | USI | 30 Seconds |
| $UVOLQ | NASDAQ UP VOLUME | eSignal | USI | 30 Seconds |
| $DVOLQ | NASDAQ DOWN VOLUME | eSignal | USI | 30 Seconds |
| $XVOLQ | NASDAQ UNCHANGED VOLUME | eSignal | USI | 30 Seconds |
| $VOLDQ | NASDAQ $UVOLQ MINUS $DVOLQ | eSignal | USI | 30 Seconds |
| $ADDQ | NASDAQ $ADVQ MINUS $DECLQ | eSignal | USI | 30 Seconds |
| $ADVQ | NASDAQ ADVANCING ISSUES | eSignal | USI | 30 Seconds |
| $DECLQ | NASDAQ DECLINING ISSUES | eSignal | USI | 30 Seconds |
| $UCHGQ | NASDAQ UNCHANGED ISSUES | eSignal | USI | 30 Seconds |
Symbol
Description
Source
Exch. Listed (XL)
Update Frequency
$COMPQ
NASDAQ COMPOSITE
NASDAQ

NQI

Real Time
$NDX
NASDAQ 100
NASDAQ

NQI

Real Time
$QOMX
NASDAQ OMX 100
NASDAQ

NQI

15 Seconds
$XAU
PHLX GOLD/SILVER
NASDAQ

NQI

Real Time
$SOX
P

PHLX SEMICONDUCTOR SECTOR

NASDAQ

NQI

Real Time
$HGX
PHLX HOUSING SECTOR
NASDAQ

NQI

Real Time
| | | | | |
| --- | --- | --- | --- | --- |
| Symbol | Description | Source | Exch. Listed (XL) | Update Frequency |
| $NYA | NYSE COMPOSITE | NYSE | GIF | 30 Seconds |
| $XAX | AMEX MARKET VALUE (COMPOSITE) | NYSE | GIF | 15 Seconds |
| $QQV | QQQ Volatility Index | NYSE | GIF | 15 Seconds |
| $GDM | AMEX GOLD MINERS | NYSE | GIF | 15 Seconds |
| $GBS | MORGAN STANLEY GL BASKET CPN | NYSE | GIF | 15 Seconds |
| $NYXBT | BITCOIN | NYSE | GIF | Daily |
| | | | | |
| --- | --- | --- | --- | --- |
| Symbol | Description | Source | Exch. Listed (XL) | Update Frequency |
| $SPY.IV | SPDR S&P 500 TRUST(INDICATIVE VALUE) | NYSE | NYI | 15 Seconds |
| $FAS.IV | DIREXION FINANCIAL BULL 3X SHARES PROFILE(INDICATIVE VALUE) | NYSE | NYI | 15 Seconds |
| $FAZ.IV | DIREXION FINANCIAL BEAR 3X SHARES PROFILE(INDICATIVE VALUE) | NYSE | NYI | 15 Seconds |
| $GLD.IV | SPDR GOLD SHARES(INTRADAY INDICATIVE VALUE) | NYSE | NYI | 15 Seconds |
| $IWM.IV | iSHARES RUSSELL 2000(INTRADAY INDICATIVE VALUE) | NYSE | NYI | 15 Seconds |
| $TZA.IV | DIREXION DAILY SMALL-CAP BEAR 3X SHARES(INDICATIVE VALUE) | NYSE | NYI | 15 Seconds |
| $TNA.IV | DIREXION DAILY SMALL-CAP BULL 3X SHARES(INDICATIVE VALUE) | NYSE | NYI | 15 Seconds |
| | | | | |
| --- | --- | --- | --- | --- |
| Symbol | Description | Source | Exch. Listed (XL) | Update Frequency |
| $RUF | ISE HOMEBUILDERS INDEX | OPRA | OPTI | 15 Seconds |
| $MVR | MORGAN STANLEY RETAIL INDEX | OPRA | OPTI | 15 Seconds |
| $PC-ST | TOTAL PUT CALL RATIO COMPOSITE | OPRA | OPTI | 15 Seconds |
| $PCA-ST | PUT / CALL RATIO - AMEX | OPRA | OPTI | 15 Seconds |
| | | | | |
| --- | --- | --- | --- | --- |
| Symbol | Description | Source | Exch. Listed (XL) | Update Frequency |
| $RUI | RUSSELL 1000 | OPRA | RSLI | 15 Seconds |
| $RUT | RUSSELL 2000 | OPRA | RSLI | 15 Seconds |
| $RUA | RUSSELL 3000 | OPRA | RSLI | 15 Seconds |
| $RLG | RUSSELL 1000 GROWTH INDEX FUND | OPRA | RSLI | 15 Seconds |
| $RLV | RUSSELL 1000 VALUE INDEX FUND | OPRA | RSLI | 15 Seconds |
Symbol
Description
Source

Exch. Listed

(XL)
Update Frequency
$INDU
DOW JONES INDUSTRIAL AVERAGE
DOW JONES

DJI

2 Seconds
$DJ
DOW JONES INDUSTRIAL (SAME AS $INDU)

DOW JONES

DJI

2 Seconds
$COMP
DOW JONES COMPOSITE AVERAGE
DOW JONES

DJI

5 Seconds
$UTIL
DJ UTILITY
DOW JONES

DJI

5 Seconds
$TRAN
DOW JONES TRANSPORTATION AVERAGE
DOW JONES

DJI

5 Seconds
$B400
BARRONS 400 INDEX
DOW JONES

DJI

15 Seconds
$DJECOM
DOW JONES INTERNET COMMERCE INDEX
DOW JONES

DJI

15 Seconds
$DJISVC
DOW JONES INTERNET SERVICE INDEX
DOW JONES

DJI

5 Minutes
$MLVL
ML VALUE LINE 30 PRO
DOW JONES

DJI

15 Seconds
Symbol
Description
Source
Exch. Listed (XL)
Update Frequency
IN A0
S&P 500 Futures (Cash)
CME

SPC

15 Seconds
OE A0
S&P 500 Futures (Cash)
CME

SPC

15 Seconds
IV A0
S&P CITIGROUP VALUE CASH INDEX
CME

SPC

15 Seconds
$PREM

S&P 500 FUTs CASH SPREAD (Cash vs front month)

CME

SPC

6 Seconds
$EPREM

PREMIUM

S&P 500 MINI FUTURES (Cash vs front month)

CME

SPC

6 Seconds
$GSCI
GOLDMAN/SACHS COMMODITY
CME

SPC

12 Seconds
| | | | | |
| --- | --- | --- | --- | --- |
| Symbol | Description | Source | Exch. Listed (XL) | Update Frequency |
| $SPX | S&P 500 INDEX | CBOE | MDI | 15 Seconds |
| $OEX | S&P 100 INDEX | CBOE | MDI | 15 Seconds |
| $TYX | 30 YEAR T-BOND INTER RATES | CBOE | MDI | 10 Seconds |
| $TNX | 10 YEAR T-NOTE INT RATE (CBOE) | CBOE | MDI | 10 Seconds |
| $FVX | 5 YEAR T-NOTE INTER RATES | CBOE | MDI | 10 Seconds |
| $IRX | SHORT-TERM INTER RATE | CBOE | MDI | 10 Seconds |
| $VIX | MARKET VOLATILITY | CBOE | MDI | 15 Seconds |
| $VWA | CBOE MARKET VOLATILITY -SPX ASK | CBOE | MDI | 15 Seconds |
| $VWB | CBOE MARKET VOLATILITY -SPX BID | CBOE | MDI | 15 Seconds |
| $GVZ | CBOE GOLD VOLATILITY INDEX | CBOE | MDI | 15 Seconds |

Asia/Pacific Indices


| | | | | |
| --- | --- | --- | --- | --- |
| Symbol | Description | Source | Exch. Listed (XL) | Update Frequency |
| $XJO-ASX | S&P/ASX 200 | Australia Stock Exchange | ASXI | 30 Seconds |
| $XAO-ASX | ALL ORDINARIES | Australia Stock Exchange | ASXI | 30 Seconds |
| $XIN9-FTSX | FTSE XINHUA CHINA A50 INDEX | Xinhua / FTSE Indices | FTSX | 60 Seconds |
| $HSI-HKG | HANG SENG INDEX | Hang Seng Indices | HKGI | 30 Seconds |
| $200-KOR | KOSPI 200 INDEX | Korea Stock Exchange | KORI | Real Time |
| $N225-NKI | NIKKEI 225 | Nikkei Indices | NKI | 60 Seconds |
| $NIFTY-NSE | S&P CNX INDEX | National Stock Exch India | NSEI | Real Time |
| $000002-SHG | A-SHARE INDEX | Shanghai Stock Exchange | SHGI | 6 Seconds |
| $TOPIX-TSE | TSE FIRST SECTOR ISSUES | Tokyo Stock Exchange | TSEI | 15 Seconds |
European Indices

| | | | | |
| --- | --- | --- | --- | --- |
| Symbol | Description | Source | Exch. Listed (XL) | Update Frequency |
| $AEX-EEB | EURONEXT AEX AMSTERDAM INDEX | NYSE Euronext All Indices | EIBI | 15 Seconds |
| $PX1-EEB | CAC40 | NYSE Euronext All Indices | EIBI | 15 Seconds |
| $UKX-FTSE | FTSE 100 | FTSE Index Values | FTSE | 15 Seconds |
| $INDI-MAC | SPANISH IBEX 35 | Madrid Stock Exchange | MDEI | 5 Seconds |
| $FTSEMIB-MIL | ITILIAN FTSE MIB | Milan Stock Exchange | MSEI | 15 Seconds |
| $OMXN40-OMX | OMX NORDIC 40 | OMX Nordic Equities | OMXI | Real Time |
| $OSEBX-OSL | OSLO BORS BENCHMARK INDEX | Oslo Stock Exchange | OSLI | Real Time |
| $RTSI-MOS | RUSSIAN RTS INDEX | Russia Stock Exchange | RTSI | 30 Seconds |
| $SMI-SWX | SWISS SMI INDEX | SWX Indices | SWEI | Real Time |
| $DAX-XET | DAX (PREFORMANCE INDEX) | Deutsche Börse Indices | DBGI | Real Time |